AWARDS & ACCOLADES

Was nominated among the top 6 bloggers in the Creative Writing Category by the Indian Blogging Community – 'BlogAdda' during the BlogAdda Awards 2014.
To read more log on to – http://win.blogadda.com/topbloggers
Listed as the 17th Top Blogger among a list of 25 Top Bloggers (List includes Narendra Modi, Chetan Bhagat, Vineet Nayar, Kiran Bedi, Shekhar Kapur, Amitabh Bachchan, Shobhaa De, Rajdeep Sardesai to name a few) in India compiled by Research Information site – Infolona.
To read more log on to – http://www.infolona.com/news_india_facts_and_heroes/top_bloggers_in_india/find
PUBLISHED FICTION
My short stories & an essay have appeared in two books.
Minds @ Work by First Step Publishing

Source: http://3.bp.blogspot.com/-Ecz-LXUKHhI/UW41y0gQKZI/AAAAAAAAAEs/rGeu-H_ZtJI/s1600/32372_228627613935852_1945117069_n.jpg
An interesting collection of poems, short stories, anecdote's and real stories – the book has it all. The book brings together 12 writers from across the spectrum. There are students, IT professionals and even entrepreneurs who have contributed.
Read my short story "Twisted Love" here.
You can buy the book from any of the below portals as well –
Infibeam – http://www.infibeam.com/Books/minds-work-various/9788192267074.html
Flipkart – http://www.flipkart.com/minds-at-work/p/itmdtkrgz9zcdvqz?pid=9788192267074&otracker=from-search&srno=t_1&query=aseem+rastogi&ref=f0660c5a-0196-49ea-a2d7-3077d7b3804a
Down the Road by Grey Oak Publishers
Source: https://simplyfiction.files.wordpress.com/2011/03/road_print.jpg
An exciting and eclectic collection of short stories that brings out all those memories – unforgettable, warm, thrilling, and at times embarrassing – of life in school and college campuses. From hesitant first crushes and relationships to the angst and heartache of wanting to fit in but trying to look like it doesn't matter, and from the excited anticipation of midnight "Maggi parties" to campus ragging and the struggles and insecurities of a fresh graduate trying to find his calling in life – these stories cover situations and instances familiar to anyone from their school and college days.
Read my short story "An Opportunity" and essay "Bollywood on Campus" here.
REVIEWS OF MY PUBLICATIONS
Below are few of reviews for Down the Road –
http://happysing.com/2011/05/down-the-road-book-review/
https://www.goodreads.com/book/show/11097912-down-the-road#other_reviews
http://iwrite-myblog.blogspot.in/2012/02/down-road-book-review.html
http://littlemomentsofbliss.blogspot.in/2012/02/down-road-book-review.html
http://betweenthelines.in/2011/05/book-review-down-the-road-a-short-story-collection/
CONTESTS WON
Won Pass to the INK LIVE 2014 conference in Mumbai. For more details log on to http://blog.blogadda.com/2014/10/13/inktalks-blogadda-beyond-boundaries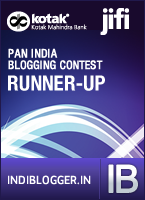 Consolation prize for the "Kotak Jifi: Digital Banking" contest organized by Indiblogger
To read more log onto – https://www.indiblogger.in/indistuff/12/
Among the top 3 winners for the 'Experience Oman' contest organized by Indiblogger in partnership with Ministry of Tourism, Sultanate of Oman.
To read more log on to – https://www.indiblogger.in/topic.php?topic=110
Among the top 3 winners for the 'Be Bold Stay Real' contest organized by BlogAdda.
To read more log on to – http://blog.blogadda.com/2013/06/08/be-bold-stay-real-book-festival-in-india-indian-bloggers-writers-meet
OTHER RECOGNITION
Selected for the BlogAdda's Tangy Tuesday picks for April 2nd 2013.
To read more log on to – http://blog.blogadda.com/2013/04/02/indian-bloggers-posts-top-reads
Below is the list of my posts which have been recognized for BlogAdda's WOW (Write Over the Weekend) initiative –
http://transitionofthoughts.com/2015/01/25/the-day-he-lied-to-me/
http://transitionofthoughts.com/2014/12/21/five-sentence-fiction-when-my-smartphone-went-missing/
http://transitionofthoughts.com/2014/10/19/winter-is-coming-brr/
http://transitionofthoughts.com/2014/09/07/stuck-in-the-bathroom/
http://transitionofthoughts.com/2014/08/18/are-you-really-patriotic/
http://transitionofthoughts.com/2014/08/03/the-girl-at-the-bus-stop/
http://transitionofthoughts.com/2013/09/21/when-i-didnt-think-twice-before-sending-it/
http://transitionofthoughts.com/2013/07/07/what-happens-when-two-hearts-meet/
http://aseemrastogi2.wordpress.com/2013/05/13/the-guy-who-didnt-bother-to-remember/
http://aseemrastogi2.wordpress.com/2013/03/18/when-that-pinkslip-is-in-the-pipeline/
http://aseemrastogi2.wordpress.com/2013/03/03/innocence-lost-in-translation/
http://aseemrastogi2.wordpress.com/2013/02/24/mind-vs-heart-who-will-win-the-battle/
http://aseemrastogi2.wordpress.com/2013/02/17/writing-to-me-is-passion-habit-obsession/
REPUBLISHED
My posts have been republished in the Storizen Magazine, Tripoto as well as DNA's Mumbai Edition.
Book Review – Amreekandesi – Masters of America
Atulya Mahajan had sent across this book to me more than 6 months back. There were a couple of times I began to read it but due to my busy schedules at work, I couldn't move forward. But finally, the day came and the book was read and done with in the space of just a couple of hours.
"Amreekandesi: Masters of America" is Atulya Mahajan's first ever novel. But he is surely not a novice on the literary scene. He has regaled millions in India and across the world through his satirical comments, jokes and blog posts on social media since quite a while. So when I got to know about his book, I was more than excited to get hold of it. Does it work? Let's check it out.
To read more log on to – http://issuu.com/storizen/docs/feb2014
Book Review – Boomerang
From education to aviation to writing, Rajshri Raajgopal has got a taste of various avenues in life. She has written a couple of children's books. And this one is her first attempt at entering the world of adult fiction. Does it work? Let's check it out.
The blurb goes like this –
Set in a scenic village on the outskirts of Trivandrum, the capital of Kerala, this is the story of the struggles of a woman in its hostile society. The journey of Anna through her battle for freedom from an unhappy household, her first love, a debilitating marriage and a stressful divorce shows the reader how difficult life is for a young woman even in this modern era. Her remarriage is a blessing in every way but it comes with a curse too Anna finds an unusual friend who is determined to destroy her new life.
To read more log on to – http://issuu.com/storizen/docs/august/79
Istanbul: Living the Dream
From spectacular natural beauty to historical legacy, Turkey has so much to offer for any tourist. And Istanbul with its strategic location in the Bosphorus straddling Europe on one hand and Asia on the other, keeps its place as one of the world's most beautiful cities. From palaces to bazaars, from mosques to malls; Istanbul blends history with modernity. It's also a beautiful melting pot of cultures from the European to the Asian traditions finding way in normal lives. To top it all, it has many UNESCO World Heritage Sites as well.
To read more log on to – http://www.tripoto.com/trips/view/8107
Bal Thackeray: The man who could bring Mumbai to a halt
Offices in Mumbai closed down earlier than normal. Many shops in busy areas of the city remained shut. Roads in many parts of the usually bustling financial capital teeming with a sea of humanity went unusually quiet. Movie shootings were stopped. Wonder what brought 'Maximum City' to a halt?
Bal Thackeray, the founder and chief of Shiv Sena who led the fight for equal rights for the Marathi manoos in Maharashtra and much more, is fighting for his life. His supporters, party members, businessman & corporates, Bollywood movie stars are among those who have come to 'Matoshree', the Thackeray residence to enquire about his condition. There are many thousands who have camped outside the house hoping to hear about him or get a glimpse of their hero. So what makes him such a hero among the large populace of Mumbai?
To read more log on to – http://epaper.dnaindia.com/story.aspx?id=32261&boxid=13498&ed_date=2012-11-19&ed_code=820009&ed_page=7
CONTRIBUTIONS
I contributed an article for the Storizen Magazine on the importance of book reviewers for the publishing ecosystem.
Why book reviewers are an important part of the publishing ecosystem

Consider the following scenario –
You are a first time author. You have either self published your book or used a fly by night operator (read 'Printer') as a publisher. They have already taken a lot of money from you to publish your manuscript. And now you have to pay even more to get the marketing done. You don't have huge pockets to do that. What's your next move? You can do any of the following –
– Relax and wait for your friends' feedback. Once they read it, they would tell their friends and thus the network would build
– Expect people to pick up the book directly from retail stores like Landmark, Crossword, Flipkart etc.
– Contact famous book reviewers and send them a copy for review
The third alternative is one of the most feasible and something which a lot of authors have begun doing these days. If you are a new author, getting reviewed and accredited by certain established book reviewers is a matter of pride. The reviewers could range from famous bloggers to top authors. While if you are an established author, a lot many newspapers, magazines etc. will also be ready to review your work.
To read more log on to – http://issuu.com/storizen/docs/june2013/15
QUOTED
I have been quoted in the below links –
'Spy Thrillers in the Indian literary industry'
Another die-hard fan of this genre is Aseem Rastogi, an independent blogger, who says, "The characters, the concept, the way the narrative is structured— all have been quite awesome and have kept the reader guessing. Honestly, we as a country are located in one of the most dangerous parts of the world. Terrorism, violence, gang wars, the underworld are some of the things we keep hearing about day in and day out. This reality is being mixed with fiction, serving up a heady and deadly cocktail that readers are enjoying."
To read more log on to – http://www.openthemagazine.com/article/books/blood-on-the-border
SpiceJet fliers get luggage after 4 hours of landing
Aseem Rastogi, who was flying by SpiceJet from domestic airport (1B) to Hyderabad, said his flight (SG-407) on Sunday was delayed and the airline staff did not even offer a reason for the same.
He tweeted: 'No one has any idea when would the flight depart. I contacted the airline but it didn't really help.' It was later learnt that the flight, which was supposed to arrive in Hyderabad at around 9.10 pm, landed there around midnight.
To read more log on to – http://www.mid-day.com/articles/spicejet-fliers-get-luggage-after-4-hours-of-landing/15486166
Rape Survivor Suzette Jordan denied entry into a restaurant for being a rape victim
Tweet: First she is abused and raped.. When she decides to come out of a closet and live again, she's again abused.. WTF #StandWithSuzetteJordan
To read more log on to – http://www.cosmopolitan.co.uk/reports/news/a29734/indian-rape-victim-claims-bar-banned-her/
http://scotscoopnews.com/survivor-suzette-jordan-denied-entry-to-restaurant-for-being-a-rape-victim.html
http://www.indiatimes.com/news/india/survivor-suzette-jordan-denied-entry-to-restaurant-for-being-a-rape-victim-174031.html
Things Indians believe should be banned to stop rape
Aseem Rastogi ‏tweets in this vein: "So the plan is to ban all web based cab services after the #Uber incident.. WOW.. Now all women will feel so much safer, isn't it? "
To read more log on to – http://www.bbc.com/news/world-asia-30391607